Problem-Based Learning (PBL)
From Learning and training wiki


Problem-Based Learning
Problem-Based Learning is a student-centered pedagogy in which students are challenged to learn through solving complex and realistic problems. Students construct their knowledge in a social context and are encouraged to organize and direct their learning process. The method claims to increase student motivation, activate prior knowledge, inspire creative thinking, facilitate the application of knowledge, and develop critical, collaborative, analytic, reasoning, problem-solving, self-monitoring, independent learning, decision-making, networking and communication skills. [1] See also: Constructivism, Cooperative Learning, Critical Incident-Based Learning, Design-Based Learning,Experiential Learning, Inquiry-Based Learning, Scenario-Based Learning, Social Constructivism,

Guidelines for creating a PBL course
Role of the instructor
Facilitator-mentor, guide, coach and not a source of solutions;
Resource guide;
Subject matter expert;
Create strong problems;
Learn with students- be open to learning;
Encourage student participation;
Give students immediate and appropriate feedback.
Role of the students
Take responsibility for their own learning by identifying their learning issues and needs;
Work in teams;
Resolve the problem;
Schedule their own activities, decide how to allocate the time;
Intuitively take up different roles (e.g. project leader, facilitators, note taker, team member).
Tips for creating strong problems
The main characteristics of the best problems are:

Unorganized;
Unsynthesized;
Open-ended;
Interdisciplinary;
Task oriented,
Focus on current events, student lives, actual occurrences;
The content builds on the previous knowledge of the students;

The problems should be created with the following aspects in mind:

Introduction (catch the attention, challenge and motivate);
Availability of resources;
Content (appropriate for the student group);
Learning objectives (by solving the problems, students should accomplish their learning objectives);
Expected outcome(s);
Guiding questions (improvisation is key but be prepared with a set of guiding questions);
Assessment tasks;
Reasonable time frame.
Principles for assessment
The facilitator helps students monitor themselves and their progress;
Students and facilitator together establish criteria for learning and quality work;
Follow the concept of "assessment as learning" (focuses on what learners achieve and not what facilitators teach);
Assessment should be integral to learning;
Use a variety of ways to assess (demonstrations, performances, practical examinations, self assessment, peer assessment, etc.).
Step by Step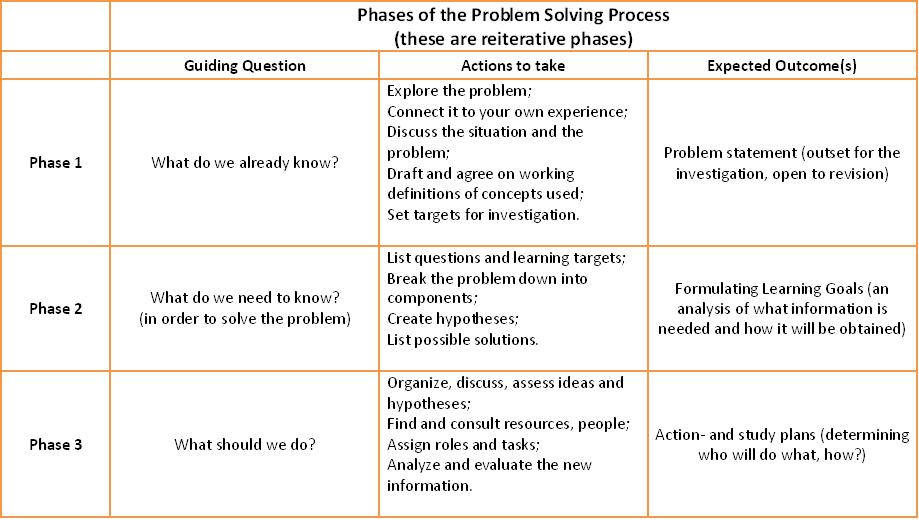 Job Aid

Guidelines for Creating a PBL Course

Web Resources
Find below additional information and resources.
References
↑ Rapid Instructional Design, Learning ID Fast and Right. George M. Piskurich, 2006, www.en.wikipedia.org (29 July 2011), www.udel.edu (29 July 2011), www.studygs.net (29 July 2011), www.sfsu.edu (29 July 2011), www.acs.edu.au (29 July 2011), www.edutechwiki.unige.ch (29 July 2011), www.adelaide.edu.au (29 July 2011)