Learning and training wiki:About
From Learning and training wiki

About Click4it
The Click4it wiki is a knowledge base repository of training methods, tools, materials, definitions, resources, and toolkits. It results from extensive work, encompassing planning, mapping, analysis, structuring, and synthesizing content for publishing. Mirroring data mining processes, the work conducted comprised thorough research, compilation, classification, summarization, clustering, and knowledge synthesis of definitions, methods, resources, and tools, to render, on a content value chain format and dynamic collaborative platform, an extensive repository of learning and training industry's terms, methodologies, and tools.

This wiki was conceived with the primary objective of enhancing clarity of information on major aspects related to the training and capacity development activities developed by UNITAR. Implementing a variety of activities, delivered through different media, and applying different methodologies, the Institute saw the need to seek improved coherence when communicating training methods and approaches utilized.

The richness and continued expansion of the wiki's contents extended its original focus from definitions in a glossary format to a consolidated knowledge base repository of learning and training reference materials, cross-referenced definitions, media rich resources, methods, and tools ready for use through a series of toolkits, checklists, step-by-step instructions, and templates to name but a few resources available to practitioners.

Click4it is powered by MediaWiki. A web 2.0 platform was the technological choice to facilitate a two-way communication flow, at once supplying knowledge services and providing an open and dynamic channel for collaboration and knowledge sharing, where registered users can contribute content and share their experiences after consulting resources or using toolkits. Contributors with editing rights collaborate adding content, making submissions, providing suggestions of new terms, methods, tools to be added, or editing existing entries, reformulating content, complementing references, or suggesting new materials or resources. Registered contributors can also make use of discussion pages to provide comments or feedback on specific topics.

UNITAR is welcoming content contributors interested in collaborating to keep the dynamics and continuous development of Click4it.
How is it organized?
Click4it is organized in sections. The Overall Repository is the main entry gate; it displays all entries on the wiki, presented in alphabetical order. Derived from this main section, sub-sections on e-Learning, Knowledge Management, and Monitoring and Evaluation cluster terms, methods and tools associated with these particular fields for quick reference. The Overall Repository is the main root. New terms are included in this section; sub-sections are updated accordingly. The clustering into sub-sections is meant for easy access of targeted search. Additionally, the embedded search engine is also an entry door to locate terms, method or tools available.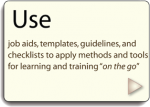 The Toolkits sub-section presents a collection of methodologies and techniques, containing practical instructions for trainers and learning designers. This sub-section grows steadily; it includes a number of job aids, general guidelines, step-by-step instructions, checklists, practical tips, and templates available on portable document format (pdf), which can be downloaded for use "on the go".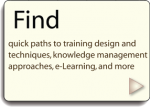 Click4it currently holds over 500 terms, methods, and tools on a variety of topics related to learning and training in addition to pointing to a great number of external resources. Throughout the wiki there are pointers to training materials, job aids, cross-referenced definitions, and a wealth of selected links to external resources and materials. Hurried readers can find a selection of customized reading paths as a starting point, with the possibility of exploring further through cross-referenced links.






Click4it Icons

Is the icon corresponding with the Overall Repository

Identifies the E-Learning Repository

Indicates the Knowledge Management Repository

Corresponds to the Monitoring and Evaluation Repository

Identifies the Toolkits Section.
In the Toolkit section you will find other two icons:
Demonstrates the existance of a template that is ready to use.
Identifies a "carry-with-you" format for the term presented in the toolkit.

Identifies every single term defined in the various repositories.

Corresponds to the web resources where one can find additional information related to the term.

Identifies links to additional materials available in pdf format.

Additionally there are two other icons that appear in the Bibliography section:

indicates all the books and articles that have been used to compile the definitions.

indicates the web-sites consulted.