Assessment
From Learning and training wiki


ASSESSMENT
A generic term used to describe any systematic method, e.g., quizzes, tests, surveys and exams, whose purpose is to evaluate and measure learners' knowledge, skills, abilities and attitudes by collecting, selecting, analyzing and interpreting the information obtained through performance observation.

Learning and assessments are correlated since the learning tasks stimulate the development of some competencies/skills/abilities and the assessment makes learners demonstrate their achievement.[1]

There are five different styles of assessments which have different purposes as described below:

Diagnostic Assessments: identify the needs and prior knowledge of learners with the purpose of directing them to the most appropriate learning experience. Pre-learning assessments (pre-tests, placement tests, personality assessments)

Formative Assessments: strengthen memory recall providing practice for search and retrieval from memory, correct misconceptions and promote confidence in learners' knowledge. Practice tests and exams (quizzes during learning, self assessment of knowledge, skills, attitudes)

Needs Assessments: determine the needs or "gaps" between learners' current and desired conditions to improve present performance or to correct a deficiency. Needs Analysis Surveys

Reaction Assessments: determine the satisfaction level with a learning or assessment experience. Course evaluation Surveys, Employee Opinion Surveys, Customer/Partner satisfaction Surveys

Summative Assessments: measure or certify knowledge, skills and aptitudes. Post Course Tests, Exams during study, Internal Exams, Open Exams, Licensing Exams, Pre-Employment Tests[2]

See also: A.D.D.I.E Model, Assessment Standardization; Peer-to-Peer Assessment; Performance Assessment; Formative Evaluation; Instructional Design (ID); Learning Objectives; Summative Evaluation

General Guidelines for developing assessments
Good assessments correspond to well-written learning objectives. The following list shows how early in the instructional process they should be designed:
Identify learning objectives;
Design and build assessments;
Design and build content and activities;
Conduct formative evaluation;
Revise assessments, contents, and activities;
Complete development;
Conduct summative evaluation;
Maintain the course.[3]
Design and build assessments
Assessment methods: after having determined key learning objectives, it is necessary to identify which type of assessment is appropriate to determine the level of knowledge/ performance achieved as a result of the learning activity.
If the objective is a knowledge objective which calls for recalling or selecting, test items can be used. Below is a list[4] based on Bloom's Taxonomy matching cognitive objectives with appropriate test assessments: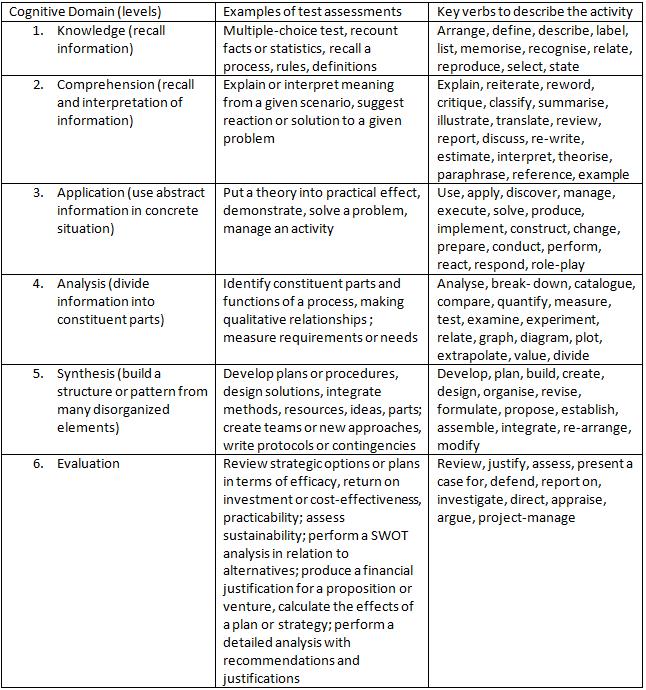 If the objective calls for performance, learners should be asked to actively demonstrate their knowledge. The goal of Performance Assessment is to test learners in real or realistic situations. In those circumstances, learners need to perform, not merely recall or select information.
Assessment Plan: use a table that shows the format in which each learning objective will be assessed and the number of necessary assessments to test the range of conditions presented by learning objectives.
Passing Grades: determine cut-off scores for assessments, for example:
- Common sense cut-off (considering the lowest level of acceptable performance);
- Percentage of total (identifying a passing grade for the entire assessment and a minimum grade for each learning objective in the task. Typically learners must pass both in order to pass the assessment. This choice is selected when a learning objective is more important than others).
Design test or performance assessments: the five most common test question types are true/false, short answers, fill-in-the blank, matching, and multiple choice questions. Bryan Hopkins, a training consultant with over 20 years of experience in developing effective training programmes, shared a comprehensive article on writing questions for training programmes: Writing Questions for Training Programmes. He distinguishes between formative and summative questions. The former ones help someone test their understanding, while the latter ones check the learner's overall mastery of a subject.
Some examples of performance assessment are: simulation, games, group projects, individual projects, internships, laboratory problems, probationary work assignments.
Job Aid

General Guidelines for Developing Assessments.pdf‎

Additional Materials

Web Resources
Below you have a list of selected websites where you can find additional information:
| Link | Content |
| --- | --- |
| Assessments in e-Learning | This slideshow presents some of the basic concepts related to the development of good learning objectives and to the importance of measuring learning. It also presents different types of assessment. |
| Developing powerful Training Assessments | Video about what to consider when performing assessments in training and teaching. It also describes what a powerful assessment is and why it is important in instructional design. |
| How Should We Measure Student Learning? The Many Forms of Assessment | Article stating the different existing forms of measuring students' abilities. |
| Performance assessments | Video explaining performance assessments approach in evaluating what students know and can do. |
| WBI Learning Design Process | This document contains the learning design process illustrated by the Word Bank Institute. Five main steps for learning design are identified, going from the definition of outcomes and objectives, to the identification of methods, the selection of tools, the assembling of the programme and finally the evaluation of the tool. For each of these fundamentals steps, additional information is provided. A specific section is dedicated to identifying methods for assessing learners' knowledge, skills, abilities and attitudes. |
| Assessment Time, Infographic | How do you assess your students' performance? Was the assessment of the performance reliable and valid? Follow these 27 tips to reliably and validly assess the performance. |
References