Flexible Learning
From Learning and training wiki


FLEXIBLE LEARNING
According to Lundin[1], flexible learning is an idealized state where there is a mixture of educational philosophy, pedagogical strategies, delivery modalities and administrative structures which allows students to choose according to their learning needs, styles and circumstances. In principle, flexible learning approaches may be applied to any subject; still, an accurate analysis of the demands of the learner and of the viability of this approach is highly recommended. The term "flexible learning" is itself flexible and encloses several aspects. There seems to be a consensus in at least the following points:
• Flexible learning implies that processes of teaching and learning can be liberated from the constraints of time and place.
• Flexible learning provides learners with a choice about how, where and when the learning process will take place.[2][3]

Flexible learning stands in opposition to linear learning[4] and it is often related to student-centeredness in educational practices (or learner-controlled learning environments)[5]. Although flexible learning is mainly used to encompass distance learning and open learning, its scope may be much wider, once it may also be found in face to face contexts groups. Consult the tables below, which compile further characteristics of flexible learning, as presented by various authors:
Characteristics of Flexible Learning According to Roy Lundin
Dimensions of Learning Flexibility: options available to the learner - Collis, Vingerhoets and Moonen.

See also: linear learning, learning styles, blended learning, cognitive load, learning behavior, distance learning, e-learning.
The five myths of Flexible Learning
Flexible learning is loaded with a series of myths. Five of the most popular ones are presented below:

1. Flexible learning is synonym of distance education
This is not necessarily so. Flexibility can involve options in course resources, in types of learning activities, in media to support learning, and many other possibilities. There is more than distance that can vary.[6] Besides, distance learning may contain components of inflexibility itself.

2. Flexible learning is only about learning
The real meaning of flexible learning is not unilateral. It equally applies to 'flexible teaching'. Flexible teaching concerns the design and implementation of the course and assessment of tasks in a way that ensures that the array of flexible measures adopted may benefit the learner. It also includes guidance and support regarding the access to resources.[7] In sum, flexible learning also encompasses 'flexible teaching'.

3. Flexible learning is a new phenomenon
Flexible learning is not a brand new phenomenon brought by the practical means of the digital era. Students have for a long time chosen from a variety of courses, studied their textbooks in a variety of locations and times, and selected from a variety of resources in the library.[8]

4. Flexible learning is all we need
This statement concerns the 'ideal' character acquired by the term, that is, people judge it to be invariably good. There are advantages, but they have up to now been treated as unquestionable and very little research has been dedicated to a deep understanding of its challenges.

5. Flexible learning is more effective because it is fun
The assumption that flexible learning is more enjoyable than linear learning is nowadays embedded in the collective unconscious. This is similar to the assumption that one learns better in an enjoyable (fun) environment. For this reason, many people believe that flexible learning is a more effective approach when it is fun. However, based on the information presented by the chart below[9], one may say that outcomes of the combination between enjoyment and flexible learning are not as positive as the popular imagination has constructed. The graph shows in the vertical axis the 'declarative knowledge', which refers to the knowledge learners can speak about after the learning process; and which stands in relation to the level of enjoyment, in the horizontal axis, concerning the level of enjoyment they have declared to have had during the learning process. Considering that PC stands for 'Program-controlled' (linear learning) and LC for 'Learner-controlled' (flexible learning), one may conclude that in a linear learning environment, the higher the level of enjoyment, the higher the declarative knowledge; whereas in a flexible learning environment, the higher the level of enjoyment, the lower the declarative knowledge.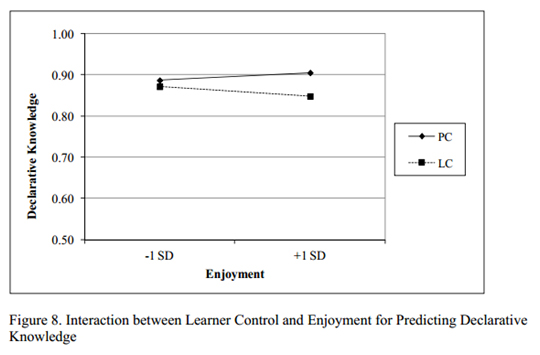 Taken together, these results suggest that learner satisfaction is not necessarily a reliable or positive predictor of learning, even in flexible learning environments.[10]
Challenges of flexible learning
Flexible learning approaches present a number of challenges. The most relevant ones are:

• When dealing with complex content, flexible learning may prompt cognitive overload.[11]
Benjamin Granger has conducted an interesting study on challenges of flexible learning. Below are some of the most interesting points of his research. Supported by the Cognitive Load Theory (CLT), which calls attention to the level of cognitive load in the learning process, the focus of Granger's argumentation lays on the divergence of outcomes regarding learner-controlled[12] (flexible learning) scenarios in both modalities of flexible learning, face to face and distance learning. One of the scenarios encompasses relatively simple content, whereas the other refers to complex content. As presented in the chart below[13], flexible learning seems to be effective while dealing with simple content, with slightly superior results in opposition to 'program control' (linear learning). When embedded in a complex scenario, the flexible approach looses approximately fifty percent of its effectiveness. This experiment demonstrates that flexible learning scenarios are in principle a weak approach when dealing with complex contents.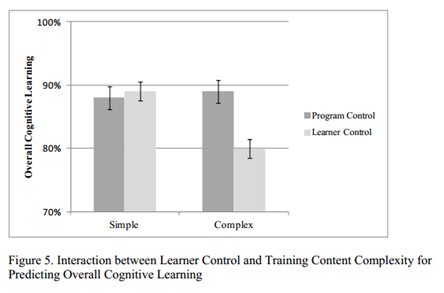 The flexible learning approach for complex content has not shown to be disadvantageous for every participant. Granger suggests that the performance of learners inserted in flexible learning environments was strongly influenced by personal goal orientation, which refers to the motivational level and learning behavior of the learner. The higher the goal orientation, the higher the performance in a learner-controlled (flexible) scenario, regardless of the complexity of the content. This assertion enforces the idea that flexible learning tends to highlight motivational individual differences, which are seen as a disadvantage in the learning processes.

• Distance learning (e-learning) may become inflexible due to technology accessibility disparities and lack of motivation in asynchronous learning environments.
"(…) all flexibilities come with provisos, pre-conditions and commitments (or inflexibilities)" - Chen 2003[14]
In the context of distance learning or e-learning, flexibility for some may translate into inflexibility for others. As such, the experience of flexible learning may come with hidden restrictions or inflexibilities that are not made visible, for instance those related to accessibility problems.
As Chen states, flexibility is not a given. Apart from the individual affinity with flexible learning environments, there are still other factors like accessibility and time-zones, which may constrain rather than provide flexibility to learners. The flexibility regarding time and place, for example, may become rather an obstacle than a facilitator in some cases. The expressions 'whenever and wherever' are highly dependent on the purchase power (financial situation) of the learner, on where he/she is placed, and on the infrastructure of this locality. Power problems, blackouts, pick time and slow internet connection may impede the learner to access the online content 'when he/she wants to'. The lack of a mobile device or internet connection will prevent him/her to do it 'where he/she wants to'.[15],[16]

• Individual differences and cognitive load:
According to Granger, individual mindsets may be influenced and even shaped in order to optimize student's use of learner-control (in flexible learning environments). The Learner Goal Orientation[17] may be naturally high in some individuals, but may also be induced or stimulated by external actors (trainers, instructional designers, supervisors, etc.) through error encouragement[18] for example; making it an individual difference that can be influenced prior to and during training.[19] Blended learning approaches regarding the application of both linear and flexible learning sets, in which the learner is provided with partial control of learning activities, may be also considered as an alternative to overcome individual differences and cognitive overload.

• Inflexibilities related to distance learning:
Community belonging issue: in order to provide the learner with a deeper feeling of community belonging in an online environment (where learners will hardly meet personally) and thereby enhance his/her learning experience, two paths are recommended, the first concerning the learning process and the second concerning the after learning process:
1. Stimulating discussions through online forums is a well known way to prompt engagement among peer learners. In addition, the level of engagement (frequency and quality of participation) of the learner in forums could be used as a form of assessment for the course, increasing even more the number and quality of the discussions.
2. To keep learners engaged after a course and bring them together as community of learners with similar interests, an alumni environment can be created to facilitate the continuation of exchanges and where learners may keep in touch, exchange and eventually collaborate with each other's learning experience and projects.
Benefits of flexible learning
• With the ever widening scope of higher education around the globe, students will demand educational programs and access to these programs in a way which will be easily adapted to their lives and cultures. Flexible learning will be an option to satisfy this demand once it also entails adaptative learning.

• For professionals, better quality of results could be potentially achieved, in that only the necessary content, in the most up-to-date versions of resources, would be chosen. Here one sees a clear benefit[20]

• The market is becoming more and more competitive and therefore demanding; people will need to combine various sets of skills in order to fulfil an employer's requirement. This will lead to the necessity of more flexible curricula to provide learners with alternative pathways through the content to suit their needs.

• The conception of lifelong learning will keep the youth within the learning environment as they mature as well as bring back into learning older groups of the population. Theories and experience with adult education show that adults tend to better fit to courses which consider their background and suits their needs, adding value to their life.[21]

Toolkit: Implementing Flexible Learning
Various are the strategies to implement flexible learning. Due to its generic character, the traditional A.D.D.I.E Model may also be applied in flexible learning contexts. The two phases (Analysis and Design) represent a dynamic, flexible guideline for building effective training and performance support tools. [22]
Analysis
Since one of the core aspects of flexible learning is the learner, the focus of the A.D.D.I.E Model should in turn be the learner. Thus during the analysis, the questions proposed by this flowchart[23] should be kept in mind:


Interview with prospective participants

Interviewing the (potential) learners to find out what kind of flexibility they need and want is highly recommended. Learners should be made fully aware of all the conditions of the flexible learning options available to them. This would include clearly identifying both the flexibilities and inflexibilities of any given option.[24], The table Opportunities for more-flexible learning: options for the learner (revised from Collis 1996), taken from the book "Flexible Learning in a Digital World" (2004), provides a complete guideline which will help you prepare the interview. It is based in seven points that have been currently used by institutions as focus of flexibility improvement, i.e.: Social organization of learning, content, learning materials, interactivity, technology, language and location.
Note that no option will suit all flexible learners in a single system, so a variety of options would assist in making the educational opportunity more inclusive.[25]
Design
With the data produced by the analysis, you will already have an initial vision of the project and enough material to start designing the course. See this guideline table in order to support your design: Flexibility dimensions set out against general CMS characteristics (adapted from Collis, 1998)
For more detailed information and a deeper understanding of the implementation process of flexible learning, you may consult the book "Flexible Learning in a Digital World", BETTY COLLIS & JEF MOONEN, 2004.

Web Resources
Link
Content
Linear and non-linear learning
Ken Carroll brings his point of view on divergences between linear and non-linear learning. He defends flexible learning, based on the presupposition that the way humans learn is not linear at all. 'Networks' is a common term used by Carrol. (free access)
Pinterest Board on Flexible Learning

(Infographics)

Check out Click4it's Pinterest Board on Flexible Learning and discover more about it!

Additional Materials
References