Teleconference Clock Method
From Learning and training wiki


TELECONFERENCE CLOCK METHOD
Method designed to assist moderators to regulate and facilitate the interaction between participants during conference calls. The Teleconference Clock creates a speaking sequence for introducing each participant: people are given a place on the clock as a mechanism to ensure that everyone has a chance to speak. The "clock" is used to encourage participation on conference calls or structured online chats involving more than four people. [1]

Conducting a Teleconference Clock
Preparing a Teleconference Clock
Have an agenda that includes conference goals and participants' expectations.
Think about the time zones of participants when scheduling.
Consider the impact of comments volume (based on the number of participants) with the available time.
Send all participants the dial-in number and pass-codes if needed. With international groups, be clear if the number is cost-free.
Distribute supporting documents or files before the beginning of the conference call.
Take care in advance of the call controls. If the leader controls the start/stop of the call and may have to leave early, have a second person with leader privileges in order to avoid call interruptions.
Greet everyone once online and use the "clock" method for the introduction of each participant.
Step by Step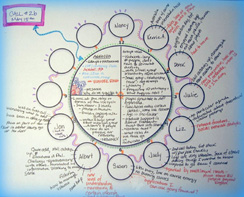 The template for this technique is from Ray Guyot [2]
Ask every participant to get a piece of paper to draw a circle on it and mark the hours like a clock.
Assign each person a spot on the "clock" when joining the conference call. The first person on the call put his name on 1 o'clock hour, the second 2, etc. If there are more than twelve people, start adding 1:30, 2:30 etc.
Use the "clock order" to create a speaking sequence which ensures the participation of everyone. Participants can make notations and use the piece of paper as a visual tool to match names, voices and inputs.
Vary the position of the participants on the clock if you are planning multiple rounds of speaking.
Use feedbacks or evaluations to improve possible later calls. An "after action review" can be done at the conclusion of the call or by post-call emails.
Ask each participant to describe with three adjectives their "clock" experience.
General Call Etiquette
Call from a quiet location.
Avoid cell phones and speakerphones. If you use them remember to put the mute button when not talking.
Use quality headsets to avoid metallic sounds.
Avoid paper rustling.
Caution with multitasking; some is unavoidable but remind people about attention: occasionally call for a moment of silence to keep their attention.
Consider a kind treatment of participants' bodies: on long calls, offer short breaks.
Speak clearly and slow down if you are a "fast talker".
Be enthusiastic and use a tone appropriate to the group (the first impression is important).
Vary voice tone (avoid monotone presentations).
Job Aid

Using Teleconference Clock
References
↑ www.fullcirc.com (26 November 2009),www.ilo.org (26 November 2009), www.kstoolkit.org (26 November 2009)
↑ www.fullcirc.com/wp/2008/03/14/using-the-clock-on-telecons (26 November 2009)